In this comprehensive Writesonic review, our team of experts dives deep into the features, benefits, and capabilities of this AI-powered content generation platform. Discover how Writesonic can streamline your content creation process, enhance productivity, and ultimately drive success for your business or personal projects. Keep reading to learn more and see our detailed scoring.
Writesonic Quick Summary
Writesonic is a cutting-edge AI-powered content generation platform created by Writesonic Technologies. Launched in 2021, Writesonic stands out for its unique and wide ranging features. The platform provides users with a comprehensive suite of tools to improve content creation tasks, from blog posts to social media updates. You can learn more about Writesonic Technologies on their LinkedIn page.
AI APP Score: 97/100
Writesonic Pros and Cons
| Pros | Cons |
| --- | --- |
| Wide variety of content generation tools | Limited language support |
| Easy to use interface | Some output may require editing |
| Integrations with popular platforms | Free trial limitations |
| Frequent feature updates | |
| Time-saving for content creators | |
| Strong customer support channels | |
Writesonic Coupon Codes and Discounts
Writesonic frequently offers coupon codes and discounts for new and existing users. At the moment, users can take advantage of a Writesonic coupon code for 50% on their first purchase. Writesonic also provides a free trial, allowing users to test the platform and its features before committing to a paid plan. The free trial comes with limited access to the platform's features and tools, but it's an excellent opportunity to explore its capabilities.
The free trial does not require a credit card and you can create up to 10,000 words a month. It's a single user account but provides a fantastic way to try all of the powerful Writesonic tools risk free.
How To Get Started Using Writesonic
Visit the Writesonic Sign-Up Page.
Provide your name, email address, and choose a password. Or use your Google or Apple account and jump to Step 5.
Confirm your email address by clicking the link sent to your inbox.
Log in to your Writesonic account and explore the dashboard.
Choose a suitable paid plan or use the free trial version that provides 10,000 words a month.
Begin using the various tools and features available on the platform.
Writesonic Key Features and Tools – 10/10
Writesonic offers an extensive suite of content generation tools that cater to different types of work tasks. In this section, we'll review some of the platform's most notable features.
AI Article Writer
The AI Article Writer is a powerful tool designed to generate well-structured, engaging articles on a wide range of topics. With this feature, users can simply input their desired topic or keywords, and the AI will produce a complete article draft that can be fine-tuned to suit their needs.
This tool is particularly helpful for content creators, bloggers, and digital marketers looking to generate high-quality content efficiently.
One of the best features of this tool is how it walks you through creating an AI generated content. This is a task that many people struggle with using a more generic AI tool like ChatGPT.
You can define the keywords, then select from a list of potential titles, then select an outline (table of contents) that fits your needs. You can add additional sections to the outline and customize it ensuring the output is exactly what you're aiming for.
The last step is generating the actual article. You'll be amazed at the quality of the writing you can produce with Writesonic after less than a minute of effort setting it up. You can also go back and make edits or updates to any of the sections and click a button to re-generate the article.
Paragraph Writer
The Paragraph Writer is a versatile feature that enables users to create succinct paragraphs for various purposes, such as expanding on ideas, outlining concepts, or summarizing information. By providing a brief description or a set of keywords, the AI crafts contextually relevant paragraphs, saving time and effort.
This tool is perfect for professionals seeking to enhance their content with well-crafted, informative paragraphs. It provides the perfect remedy for writer's block or anyone that needs a content boost.
Think of this tool as the lighter version of the Article Writer. You enter a subject, provide a brief description and then Writesonic quickly produces high quality content. You can even choose how many versions of the paragraph you want produced, allowing you to choose the best one. Or even better, use the best parts of each paragraph and combine into one.
ChatSonic
ChatSonic has an ambitious goal – to provide a substantially better alternative to ChatGPT. Our team was amazed at some of the advantages of ChatSonic such as the ability to browse the Web, text based image generation and voice command.
And the best part? It leverages the power of GPT-4 so you're not missing out on any of the technology under the hood at ChatGPT. The Web browsing results are mixed, some of our searchers on ChatSonic returned sites that no longer exist, but it's still a significant improvement over the dataset limitations of ChatGPT.
When compared to ChatGPT, Writesonic's ChatSonic also employs advanced natural language processing capabilities to facilitate human-like conversations.
While both tools offer excellent chatbot development options, ChatSonic has been designed specifically for Writesonic users, ensuring seamless integration with the platform's other content generation features. This makes ChatSonic an ideal choice for businesses seeking a cohesive, all-in-one solution for their content needs.
Content Rephrase
Content Rephrase is a handy tool designed to rephrase existing text, enhancing its readability and uniqueness. By inputting a piece of content, the AI intelligently restructures the text, ensuring it conveys the same information while remaining engaging and easy to comprehend. This feature is ideal for users who want to repurpose existing content or improve the overall quality of their writing. The output includes up to five different paragraphs so you can select the best one.
Facebook Ads
Writesonic's Facebook Ads feature enables users to create compelling ad copy tailored for Facebook's advertising platform. By providing some basic information about the product or service being advertised, the AI crafts captivating headlines, descriptions, and calls-to-action. Your ads are built to boost engagement and conversion rates. This tool is especially beneficial for digital marketers and advertisers seeking to optimize their ad campaigns on Facebook.
Product Descriptions
The Product Descriptions feature generates engaging and informative descriptions for products, catering to e-commerce businesses and online retailers. Users simply input product details, and the AI crafts enticing descriptions that help potential customers understand the benefits and features of the product. This feature is ideal for businesses looking to enhance their product listings and boost sales. You'll find some templates that are specific to third party retailers such as Amazon.
Social Media Content Plan
The Social Media Content Plan tool assists users in crafting strategic, engaging content for various social media platforms. By inputting their industry, target audience, and content goals, the AI generates a tailored content plan, complete with post ideas, optimal posting times, and engagement strategies. This tool is a must-have for social media managers and digital marketers.
Landing Pages
Writesonic's Landing Pages feature generates high-converting landing page copy designed to capture leads and drive conversions. Users provide information about their product or service, and the AI crafts persuasive copy that engages visitors and encourages them to take action.
Photosonic
A new AI Image Generator feature that adds even more value to the Writesonic content platform. You can easily create images that can be added to your online content, emails, or web site. Staying within a single App to create both content and images makes everyone's workday easier. The functionality for this feature is fairly basic for version one but it's enough to cover all of your primary AI art needs.
Writesonic Ease of Use and Design – 9/10
Writesonic boasts a user-friendly interface that enables users to access its features and tools with ease. The platform is designed for quick onboarding, allowing users to start generating content immediately after signing up. While some tools may require a learning curve, the intuitive design and helpful tooltips ensure that users can make the most of the platform without extensive training.
One of things we appreciate about Writesonic is the workflow tools and helpful tips provided. This makes it much easier to get started when trying a new feature for the first time. There's also extensive help content in case you get stuck.
Writesonic Pricing and Value – 10/10
Writesonic offers various pricing plans to accommodate different user needs and budgets. The plans include:
Free Trial: Access to all features but a limit of 10,000 words generated per month.
Long-Form Plan: Access to all features, a sliding scale of words per month starting at 50,000 and going as high as 1 million. Your monthly or annual pricing depends on the numbers of words.
Custom Plan: Custom pricing for large-scale organizations with unique requirements.
The pricing models for AI Apps change frequently. The latest pricing tiers we've outlined are displayed below:
Writesonic Feature Roadmap and Release Schedule 9/10
Writesonic has a track record of continuous improvement and innovation. While the specific features and release dates may be subject to change, the company has announced plans to introduce new tools and integrations in the coming year. Users can expect to see improvements in the AI's language generation, additional content generation templates, and increased compatibility and integrations with various third-party platforms.
Writesonic Customer Support Options – 9/10
Writesonic offers multiple customer support channels to assist users with any questions or concerns:
Email Support: Reach the Writesonic team directly via email.
Knowledge Base: Access a comprehensive library of articles and tutorials.
Live Chat: Get real-time assistance through the platform's live chat feature.
Social Media: Connect with Writesonic on social media platforms for updates and support.
Integrations and Partnerships
The company has built a solid list of product integrations and we expect more to be launched in the next 12 months. Here's an overview of the main three integrations offered:
WordPress and Writesonic
Writesonic integrates seamlessly with WordPress, allowing users to generate and publish content directly to their WordPress sites. This integration streamlines the content creation process, enabling you to manage blog posts and articles without leaving the Writesonic platform. This valuable integration saves time and ensures a smooth workflow for content creators.
SurferSEO and Writesonic
SurferSEO integration with Writesonic enables users to optimize their content for search engines while maintaining readability and user engagement. By connecting SurferSEO and Writesonic, users can analyze their content's SEO performance and receive suggestions for improvement, all within Writesonic platform. This valuable integration ensures that users can create high-quality, SEO-friendly content without the need for additional tools or platforms.
Zapier
The Zapier integration with Writesonic allows users to automate their content generation workflow by connecting Writesonic to numerous other apps and services. This powerful integration enables users to streamline their content creation process, save time, and improve overall productivity.
Top Writesonic Use Cases
Writesonic is a versatile platform, suitable for businesses across various industries and catering to diverse professional roles. Here are some top use cases:
Content creators and bloggers: Generate well-structured, engaging articles and blog posts with the AI Article Writer and Paragraph Writer tools.
Social media managers: Craft compelling social media content and develop strategic content plans using the Social Media Content Plan feature.
E-commerce businesses: Create enticing product descriptions to boost sales using the Product Descriptions tool.
Digital marketers: Produce high-converting ad copy and landing pages with the Facebook Ads and Landing Pages features.
Customer support teams: Build AI-powered chatbots to enhance customer experience and streamline support processes using ChatSonic.
SEO specialists: Optimize content for search engines by leveraging the SurferSEO integration, ensuring higher search engine rankings and increased visibility.
By employing Writesonic, professionals from various fields can enhance their content creation processes and ultimately drive success for their businesses or personal projects.
Writesonic Security and Privacy
Writesonic prioritizes the security and privacy of its users, implementing robust measures to protect customer data. The platform employs industry-standard encryption methods, ensuring data is safeguarded during transmission and storage.
Writesonic's data privacy policies comply with major regulations such as GDPR (General Data Protection Regulation), CCPA (California Consumer Privacy Act), and HIPAA (Health Insurance Portability and Accountability Act), demonstrating their commitment to respecting users' privacy rights.
Moreover, Writesonic maintains a transparent privacy policy, detailing how user information is collected, processed, and stored. By choosing Writesonic, users can trust that their data is secure and managed responsibly.
Writesonic Social Reviews and Ratings
Writesonic has received positive feedback from users on review platforms such as G2 and Trustpilot. Users frequently praise the platform's ease of use, diverse range of features, and the quality of the generated content. These reviews indicate that Writesonic is a reliable and effective solution for content generation needs.
Here's a typical review from Trustpilot: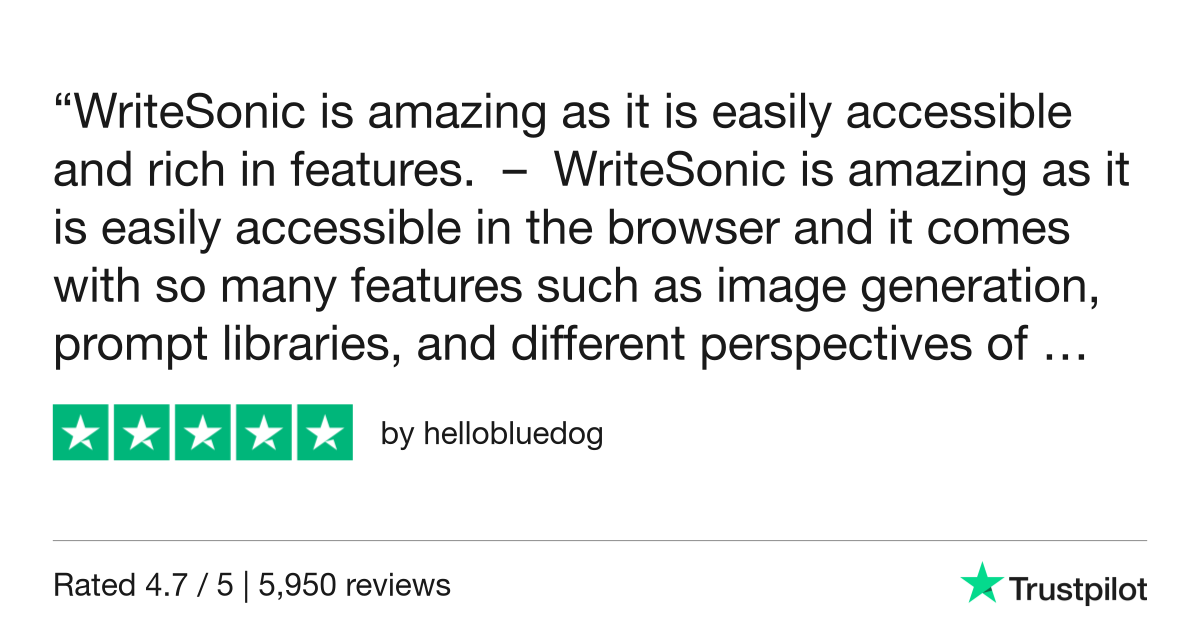 hellobluedog gave Writesonic 5 stars. Check out the full review...
WriteSonic is amazing as it is easily accessible in the browser and it comes with so many featu…
www.trustpilot.com
Final Verdict
In conclusion, Writesonic is a comprehensive content generation platform that offers a wide array of features and tools to improve content creation tasks. Its ease of use, robust AI capabilities, and ongoing feature updates make it a valuable solution for businesses and individuals alike. We highly recommend Writesonic for anyone seeking to optimize their content creation process and boost productivity. It's one of the best AI content platforms you can buy.
Writesonic FAQ
What languages are supported by Writesonic?
Writesonic currently supports over 20 languages, including English, Spanish, French, German, Chinese, and Russian. The platform is continually expanding its language capabilities, ensuring that users can generate content for a diverse range of audiences.
Does Writesonic offer a Free Version?
Yes, Writesonic offers a free trial that allows users to explore the platform and its features before committing to a paid plan. The free trial comes with limited access to the tools and features but provides a valuable opportunity to test the platform's capabilities.
How does the Writesonic Pricing Work?
Writesonic offers various pricing plans, including a Free Trial, Starter Plan, Professional Plan, and Enterprise Plan. Each plan comes with different levels of access to the platform's features, catering to the needs and budgets of different users. Users can choose the plan that best suits their requirements.