Rytr AI is a popular AI writing tool that can help businesses, bloggers, and writers produce high-quality content in minutes.
Created by a San Francisco-based company of the same name, Rytr AI has quickly gained popularity among content creators looking for an easy way to generate content without compromising quality.
One unique feature that sets Rytr AI apart from its competitors is its ability to provide an extensive range of writing styles, from creative writing to technical writing, catering to a broad spectrum of users.
The tool also supports more than 25 languages, making it an ideal option for non-native speakers or multilingual content creators.
The product was first launched in 2020, and since then, the company has gained a reputation for its innovative approach to AI content generation. The company's LinkedIn page provides more information about its mission, team, and product offerings.
Our Rytr review dives into everything you need to know about this quality AI writer that provides a ton of value without the hefty price tag.
Rytr AI Writing Tool Pros and Cons
When it comes to using Rytr AI, there are several pros and cons to consider. Here is a table summarizing the six most significant pros and the three main cons of using the tool:
| Pros | Cons |
| --- | --- |
| You content team saves time | Limited customization |
| Easy to use and learn | Limited integrations with other products |
| Wide range of writing styles | AI image generator is basis |
| Affordable pricing | |
| High quality output | |
| Tons of content types offered | |
Overall, the pros outweigh the cons, making Rytr AI a valuable tool for content creators looking to streamline their writing process.
Rytr AI Promo Codes and Discounts
Rytr AI is an affordable writing tool that offers users a cost-effective solution for generating high-quality content. While the tool is reasonably priced, there are still opportunities to save money with Rytr AI coupon codes and discounts.
Currently, there are several coupon codes available for Rytr AI, offering users a discount on their subscription. One such code is "WRITEWITHRYTR," which provides a 10% discount on all Rytr AI plans.
Another coupon code, "COPY10," also provides a 10% discount on all Rytr AI subscriptions.
Rytr AI has a generous free plan with no time restrictions. This provides users with an opportunity to try out the tool risk-free and determine whether it is the right solution for their content creation needs.
How to Get Started Using Rytr AI
Getting started with the Rytr AI writing tool is a straightforward process. Here are the steps to follow to create an account and start using the tool:
Visit the Rytr AI website and click on the "Sign Up" button in the top right corner of the page. You can also go directly to the Rytr sign-up page.
Enter your email address and create a password to create your account.
Once you have created your account, select a plan that meets your content creation needs. Rytr AI offers several different subscription plans, ranging from basic to enterprise, with varying levels of functionality and usage limits.
After selecting a plan, enter your payment information to complete the subscription process.
Once you have subscribed to a plan, you can begin using the tool to generate content. To get started, simply enter the topic or idea you want to write about, select a writing style, and let Rytr AI do the rest.
With these simple steps, you can start using Rytr AI to generate high-quality content for your website or business. Everything from AI generated email text, to social media posts, to a blog outline is just seconds away.
Rytr AI Key Features and Tools
Introduction – Create high quality content with Rytr
Rytr AI is one of the most popular AI writing tools with a wide range of features that make content creation fast, easy, and effective. Here are some of the most valuable features of Rytr:
Rytr AI Writing Tools – From Product Descriptions to Entire Blog Post
Rytr AI's most popular and valuable feature is its ability to create copy and text via its rich text editor. Using advanced natural language processing (NLP) technology, Rytr AI can generate AI content in seconds, saving users time and effort.
It's like having your own AI writing assistant ready to help you at all times.
The tool works by analyzing user input, such as a topic or idea, and generating a range of content options, including blog posts, social media posts, product descriptions, and other short and long form content.
You also get a built in plagiarism checker to ensure your content marketing and other writing efforts are top quality.
The generated content can be customized to suit the user's preferred writing style and tone. Across AI writing tools, we love how you create a blog idea, blog post outline, SEO meta descriptions and other forms of content writing in just a few seconds.
You can also improve existing content and improve the writing quality of your website, emails, blog post outlines, social media posts and more. This is a great way to ensure your copy has relevant keywords included and can even help adjust the tone of voice.
Some of the most popular use cases for Rytr AI include message creation for social media, blog posts, product descriptions, landing pages, email marketing campaigns, and more. The Rytr rich text editor makes all of this easy.
With its advanced AI technology, scientific copywriting formulas and user-friendly interface, Rytr AI is a powerful tool for anyone looking to streamline their content production process.
Create – Images
In addition to its text generation capabilities, Rytr also offers a feature for creating AI images. This feature allows users to quickly and easily generate high-quality images for use in their content marketing efforts.
The images created by Rytr AI are unique and varied, with a range of styles and designs to choose from. Unlike other AI image generators, such as Fotor and Nightcafe Studio AI, Rytr AI offers users more customization options and greater control over how many variants make the final output.
Rytr Chat
Rytr.me's chatbot feature is another valuable tool. This feature allows users to have instant access to a ChatGPT like AI tool.
The chat feature helps you in numerous ways on your journey to creating long form content. Or, ask it question for quick advice to help produce product descriptions, YouTube video details, social media posts or SEO friendly titles for search engines.
Overall, Rytr AI's suite of features and tools makes it a powerful and versatile tool for content production, offering users a range of options for generating content quickly and efficiently.
Rytr AI Ease of Use and Design
As mentioned earlier, One of the most significant advantages of Rytr AI is its ease of use and intuitive design.
It's one of the easier AI copyrighting tools to understand and start using right away. It's unique features are streamlined and user-friendly making your content production and AI copywriting simple and straightforward.
Even those with little to no experience using an AI writing tool or natural language processing can quickly get up to speed and create content.
Rytr.me offers step-by-step process for generating content is easy to follow. And the various customization options make it easy for users to tailor the output to their specific needs.
With Rytr AI, users can start generating short and long form content almost right away, without the need for extensive training or instruction. However, Ryre offers a range of tutorials and support resources if you want accelerate your skills with this best in class AI writer.
It's one of the best AI copywriting tools if you're looking for a simple, fast and effective AI writing assistant to help create content.
Rytr AI Pricing and Value
Rytr AI offers a range of subscription plans to suit the needs and budgets of content creators of all kinds. Here is an overview of the pricing model and what each tier includes:
Free Plan: This plan includes 5,000 characters per month, 1 user, and basic features such as creating copy and text. No credit card is required to sign up.
Saver Plan: For just $9 per month, users receive 100,000 characters per month and all free plan features. Additional features include creating images, exporting content, and integrations with third-party tools.
Unlimited Plan: At $29 per month, this plan allows you to generate unlimited characters per month. Additional features include the ability to generate 100 images per month, a dedicated account manager, access to premium community and additional customization capabilities.
Overall, we believe that Rytr AI offers excellent value for money, with a range of plans to suit every budget.
You can start out on the free tier and gradually work way towards higher usage with unlimited characters. For only $29/month, it's incredible you get unlimited words, a dedicated account manager and one of the best AI writing tools.
The subscription plans provide a cost-effective and efficient way to create quality content quickly and streamline and improve your content quality.
See below the full details from the Rytr pricing page from the free to unlimited plan: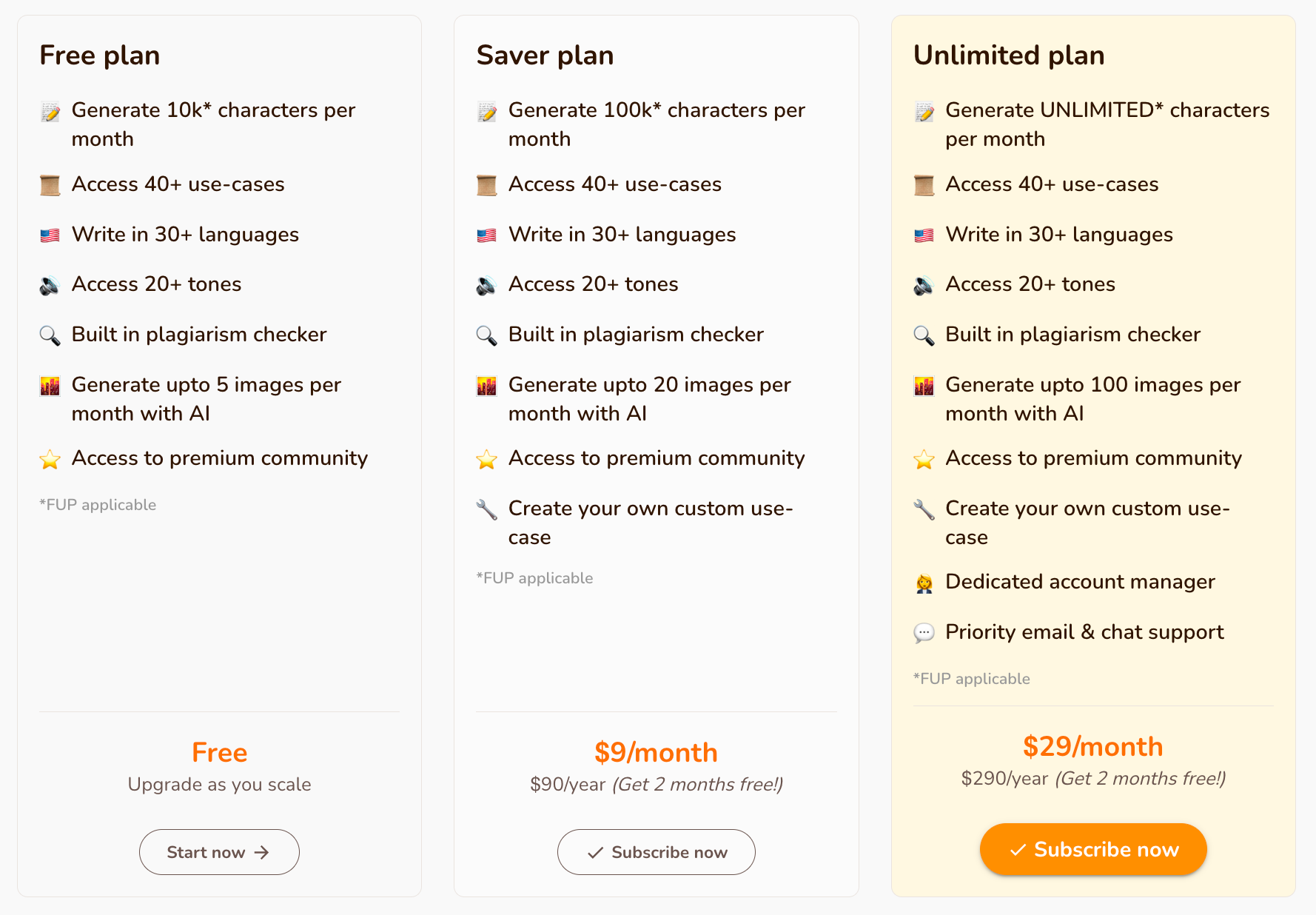 Rytr Review – Feature Roadmap and Release Schedule
The product is constantly evolving and improving, with a roadmap of exciting new features and integrations planned for the near future:
Multilingual Support: Rytr AI is also working on adding support for additional languages, which will allow users to generate content and use the Rytr copywriting tools in a wide variety of langues.
Improved Workflow Management: Rytr AI is continuously working to improve its user interface and workflow management tools, making it even easier for users to navigate the tool's various features and capabilities.
Enhanced Analytics: In the coming months, Rytr AI plans to roll out enhanced analytics tools, providing users with detailed insights into their content generation process and performance.
Overall, Rytr AI's roadmap and release schedule demonstrate the company's commitment to continuous innovation and improvement.
Rytr Customer Support Options
The company provides a range of customer support options to ensure that users have access to the help and assistance they need:
Live Chat: The company offers live chat support directly within the app, allowing users to quickly and easily get answers to their questions or resolve any issues they may be experiencing.
Email Support: Users can also reach out to the company's customer support team via email, with response times typically ranging from a few hours to a day.
Knowledge Base: The staff maintains a comprehensive knowledge base, providing users with answers to frequently asked questions, tutorials, and guides to help them get the most out of the tool.
Social Media: Users can also reach out to Rytr.me via their social media channels, including Twitter and LinkedIn, for additional support or to share feedback.
My Ryter Experience
My research for this Rytr review included extensive use of its AI writer tools and features. I used it for content writing, generating emails, descriptions, writing long form content for my web site and coming up with a new blog idea.
The built in plagiarism checker was a big win. It's nice to see that the product offers everything my team needs to quickly create content and increase their creativity level.
I was able to adjust the tone of voice to fit our brand for both short form content and to create blog posts. I loved the simple UI and how quickly I was able to increase my productivity. If you're new to using an AI Writer I highly recommend signing up for the Free Plan.
As an extra bonus compared other AI Text Generator tools, access to the premium community was awesome. You can ask questions and accelerate your knowledge of everything that Rytr offers.
Rytr AI Integrations and Partnerships
The company offers a range of integrations and partnerships with other tools and platforms to provide users with a seamless and efficient AI writing experience.
Rytr AI SEMRush Integration
With this integration, users can use Rytr AI to create SEO-optimized blog content and then seamlessly transfer it to SEMrush for optimization and analysis.
To set up the integration, users need to have accounts with both Rytr AI and SEMrush and follow the integration setup instructions provided by Rytr.
Your content marketing and going to love connecting these two tools.
Rytr Google Chrome Extension
While not technically a product integration, the browser extension makes your work processes easier. Make sure you try the Rytr Chrome Extension while testing Rytr on the Free Plan. If you're heavy google docs user this browser extension is a must-have.
Top Rytr AI Use Cases
Rytr AI is a versatile tool that can benefit businesses across a range of industries and functions. Here are some of the top use cases for Rytr AI:
Rytr Content Creation:
Rytr AI's core functionality is content creation, making it an ideal tool for businesses looking to generate high-quality written content quickly and efficiently. You can use the AI tools to help with a quick email or to help compose an entire blog post.
Content writers, marketing teams, and social media managers are just a few of the staff roles that may benefit from Rytr AI's content creation capabilities. There's even a template for generating a story plot for your marketing campaigns.
Rytr Email Marketing:
The AI tools can help businesses to create engaging and effective email marketing campaigns. By generating personalized, on-brand email content, businesses can improve their open and click-through rates and drive more conversions.
SEO Optimization:
By using Rytr AI to generate SEO-optimized content, businesses can improve their search engine rankings and drive more organic traffic to their websites. SEO specialists and content marketers have all the features they need to improve search engine indexing.
Product Descriptions:
Rytr AI can help businesses to create compelling and informative product descriptions, making it an ideal tool for ecommerce businesses. By generating accurate and engaging product descriptions, businesses can improve their conversion rates and boost their bottom line.
Overall, Rytr AI is a powerful tool that can help businesses to save time and improve the quality and effectiveness of their written content across a range of use cases.
Rytr AI Security and Privacy
Rytr AI is committed to ensuring the security and privacy of its users' data.
The company employs industry-standard security measures to protect customer data from unauthorized access, use, or disclosure. This includes measures such as data encryption, regular data backups, and access controls.
In addition, Rytr.me is committed to compliance with all relevant data privacy regulations, including the General Data Protection Regulation (GDPR), the California Consumer Privacy Act (CCPA), and the Health Insurance Portability and Accountability Act (HIPAA).
Overall, Rytr AI takes security and data privacy very seriously and has implemented a range of measures to ensure that its users' data is protected at all times.
Rytr AI Social Reviews and Ratings
Rytr AI has received generally positive reviews from users on popular review sites such as G2 and Trustpilot.
On G2 Rytr AI  an average rating of 4.7 out of 5 stars based on over 750 reviews.
Users praise the tool for its ease of use, flexibility, and ability to generate high-quality content quickly and efficiently.
On Trustpilot, Rytr AI has an average rating of 4.9 out of 5 stars based on over 2200 reviews.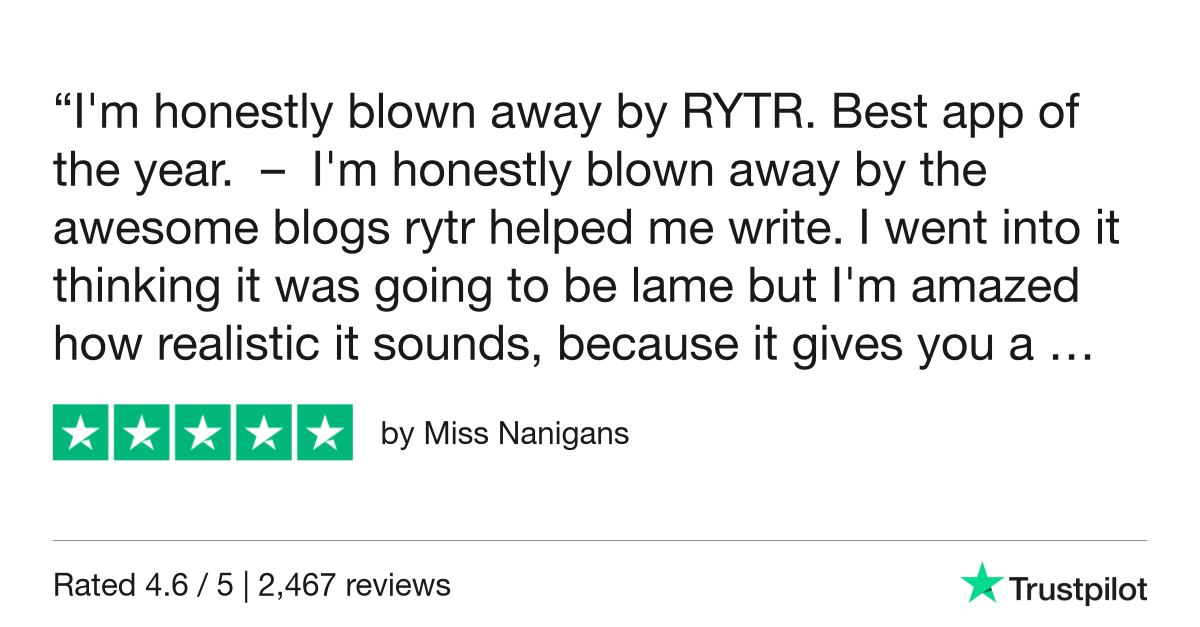 Miss Nanigans gave Rytr 5 stars. Check out the full review...
I'm honestly blown away by the awesome blogs rytr helped me write. I went into it thinking it w…
www.trustpilot.com
Users again praise the tool's ease of use and ability to generate high-quality content quickly and efficiently. Some users also note that the tool is a valuable time-saver for their business.
My Final Verdict on Rytr.me
Rytr offers a powerful and flexible tool that can help businesses generate high-quality written content quickly and efficiently.
Its intuitive interface and extensive feature set make it a valuable addition to any content writing team. With a range of pricing plans to choose from, Rytr AI is also accessible to businesses of all sizes.
Compared to Rytr alternatives such as JasperAI, Writesonic, and Copy.ai, Rytr AI stands out for its ease of use, powerful feature set, and competitive pricing.
While each of these tools has its own unique strengths and use cases, Rytr AI is a particularly compelling choice for businesses looking to generate content quickly and efficiently.
Overall, we highly recommend Rytr AI to any business looking to streamline their content production process and who want to generate more top quality text with ease.
Rytr AI FAQ
H3: What is Rytr AI?
Rytr AI is an AI writing tool that helps businesses generate high-quality written content quickly and efficiently. Its powerful feature set includes the ability to generate text, images, and chatbot conversations, making it a valuable addition to any content creation workflow.
Is there a Rytr AI free trial offered?
Yes, Rytr AI offers a free trial to new users. The trial lasts for three days and provides full access to all of Rytr AI's features. After the trial period ends, users can choose from a range of pricing plans to continue using the tool.
Is a Rytr Group Buy Offered?
No, Rytr AI does not offer group buy options at this time. However, the tool's range of pricing plans makes it accessible to businesses of all sizes and budgets.